Our New Fall Menu is Here
Fall 2019
It's official y'all, our brand new seasonal menu is in the building! We are so excited to share these new recipes with you, made with ingredients we have sourced from farmers, ranchers and growers that we love and respect. We thank these folks for ensuring our food is handled with care, harvested at its peak and made available for us to enjoy together. (More on them later!) Without further ado, we proudly present our new fall menu... come on by, we can't wait to hear what you think!
-

cowgirl cheese dip + pretzels
made with a wagon wheel cheese created by cowgirl creamery using organic cow's milk from straus family dairy + our lazy dog ankle buster blonde, served with everything-bagel-spiced soft pretzels for dipping

wild boar chili + indigo cornbread fries
slow-cooked durham ranch wild boar + black bean chili, topped with jack + cheddar cheese, sour cream + radish-onion-cilantro relish

pan-seared jumbo shrimp, cheesy blue corn grits from geechie boy mill, housemade spicy sausage + bell pepper gravy

lamb shank pot pie
marcho farms lamb shank cooked in a savory garlic + red wine sauce, served open face with mashed potatoes, marinated tomatoes + veggies, with a salted-thyme pie crust

butternut squash soup
made from scratch daily, topped with coconut cream + toasted pumpkin seeds

nashville hot portobello
crispy buttermilk-battered portobello mushroom, mashed potatoes, sautéed green beans, heirloom tomatoes, almond-walnut crumble + housemade hot sauce, served with sweet bread
happy hour

chili cheese dip + indigo cornbread fries
made with durham ranch wild boar + black bean chili, ankle buster cheese sauce, jack + cheddar cheese, topped with green onions

lamb barbacoa tacos
marcho farms shredded lamb, housemade adobo sauce, jack + cheddar cheese, topped with a radish-onion-cilantro relish, queso blanco + roasted salsa
COCKTAILS

hibiscus margarita
lunazul tequila, housemade hibiscus syrup, sweet + sour, house salt rim + lime

pineapple-coconut infusion
wheatley small-batch vodka infused with pineapple, turmeric, malibu rum, housemade ginger beer + coconut water, topped with aquafaba + a dash of bitters

desserts

maple bacon bar
made with delicate puff pastry, coombs family farms pure maple syrup, housemade salted maple cream, candied bacon, chocolate syrup, sugared almonds + fresh whipped cream

carrot cake
made in house with almond flour, walnuts, golden raisins, shredded coconut, housemade pineapple buttercream frosting + whipped cream

apple-huckleberry open face pie
wild huckleberries, cinnamon apples, salted caramel sauce, served warm with a scoop of vanilla bean ice cream in a hand folded sugar pie crust

--
Our seasonal recipes are now being served in all locations. Share your photos with us by tagging us on IG @lazydogrestaurants and using the #ldtable hashtag.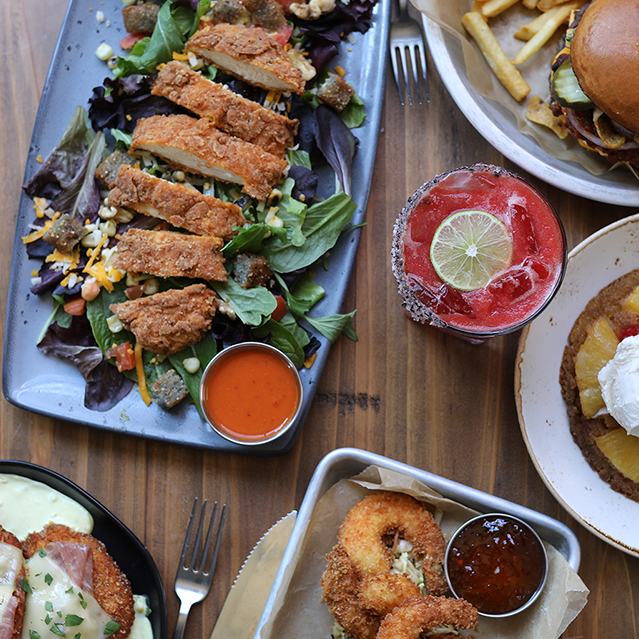 Our New Spring Menu is Here
February 21st