Our Seasonal Menu Is Here!
Fall 2018
Our seasonal menu is finally here, y'all! We've taken some iconic dishes and put our own Lazy Dog twist on it. But before we get in to that, a note from our founder and fearless leader, Chris Simms.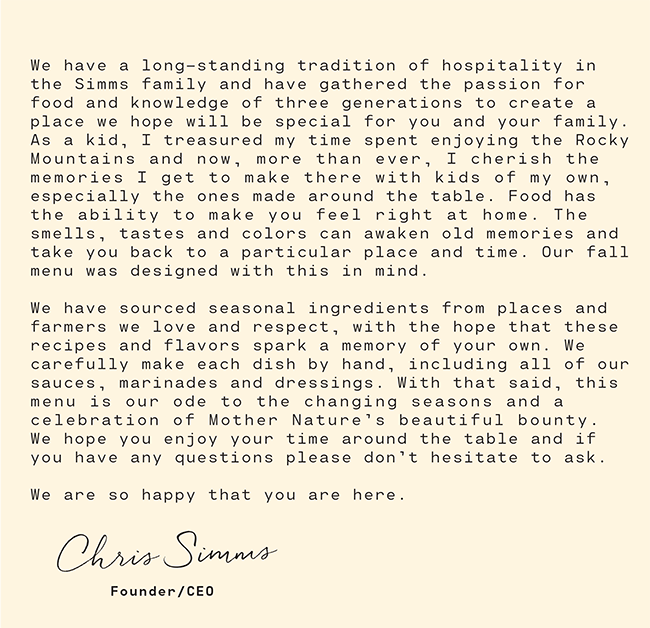 Now, the moment you've been waiting for, our new seasonal menu!
Small Plates + Soup
Butternut Squash Soup – topped with coconut cream and candied pumpkin seeds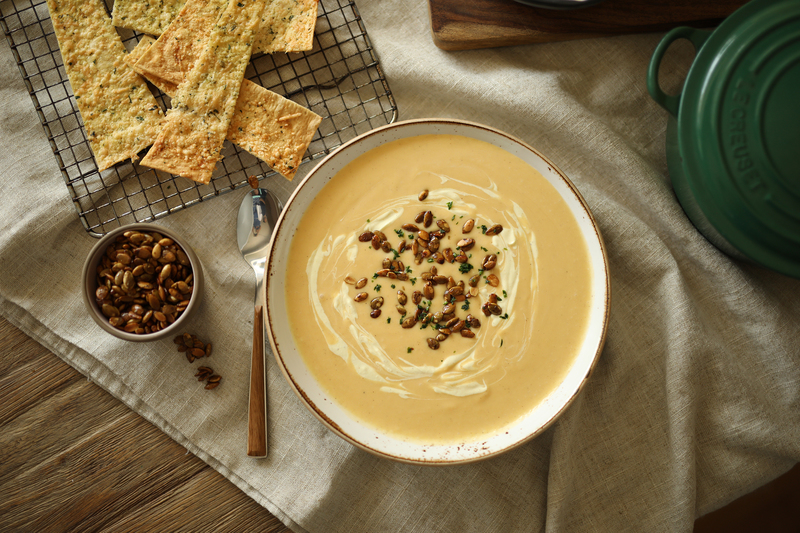 Crispy Deviled Eggs – lightly fried eggs, topped with smoked paprika and bacon candy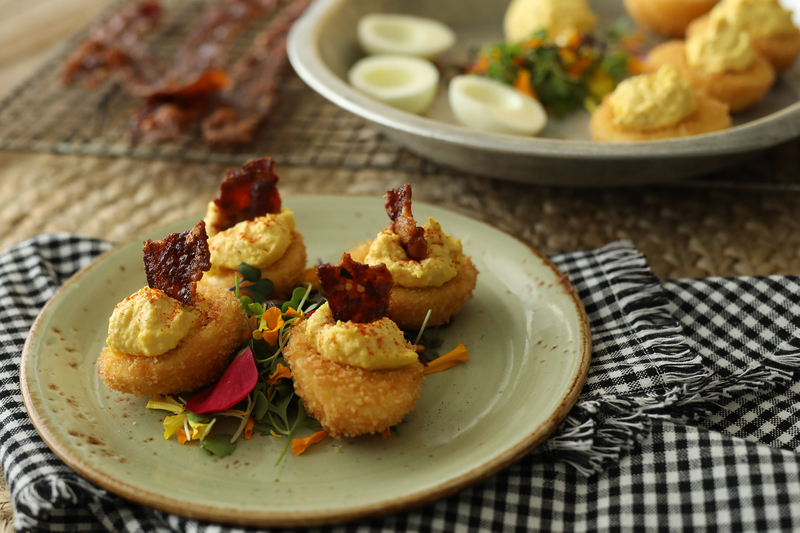 Roasted Winter Veggies – brussels sprouts, carrots, sweet potatoes and red onions, topped with creamy mozzarella burrata, candied pumpkin seeds, pomegranate and thyme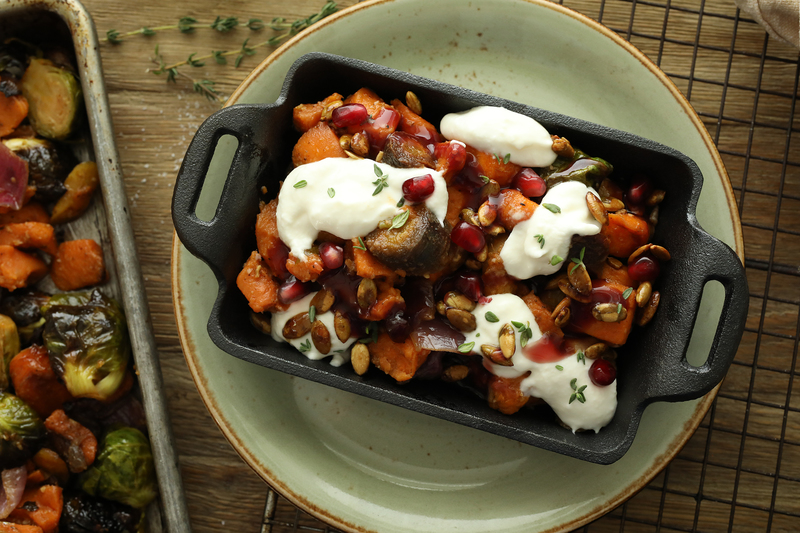 Entrees
Spaghetti Squash & Beetballs – vegetarian spaghetti squash made with zucchini ribbons tossed with olive oil, garlic and marinara with vegetarian meatballs, topped with Romano cheese, pesto, toasted pumpkin seeds and balsamic reduction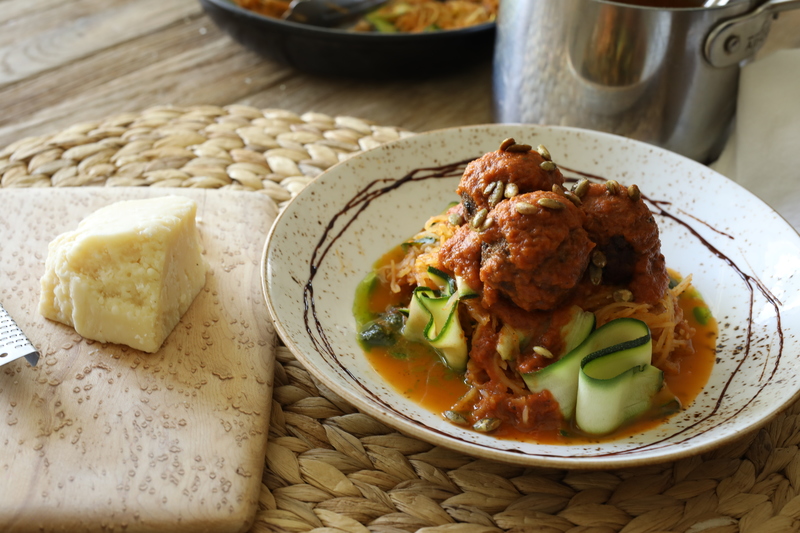 PB & J Burger – grilled half-pound beef patty, candied bacon, havarti, peanut butter, grape jelly, lettuce, tomato, onion, pickle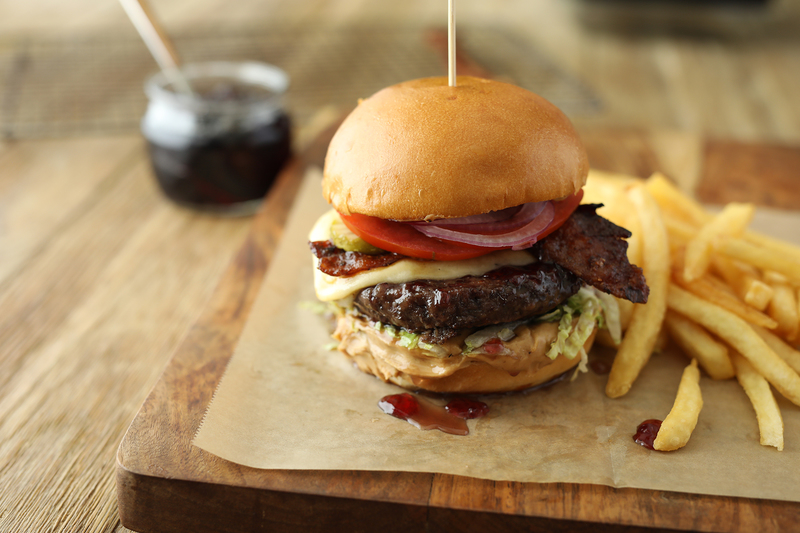 Bone-in Apple-Sage Pork Chops – marinated for 24 hours, grilled, served with roasted winter veggies and gravy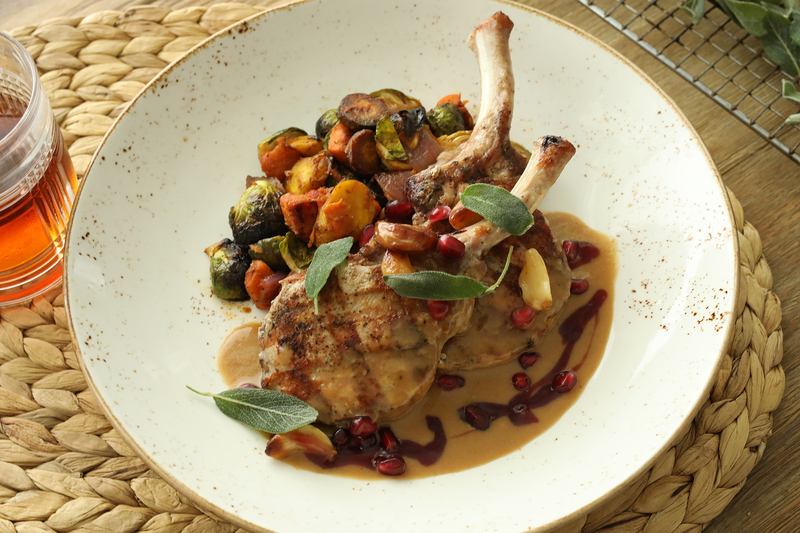 Cornish Game Hen – oven-roasted, served with carrots and feta, sausage and sweet corn stuffing, apple-sage gravy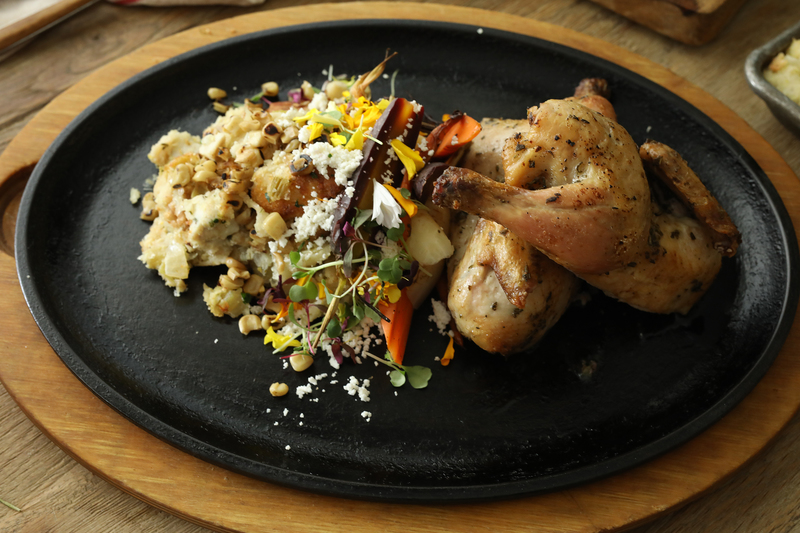 For brunch goers (served all weekend until 2pm)
Rocky Road Pancake – chocolate pancake with Nutella sauce, marshmallows, white chocolate chips and peanut butter nuggets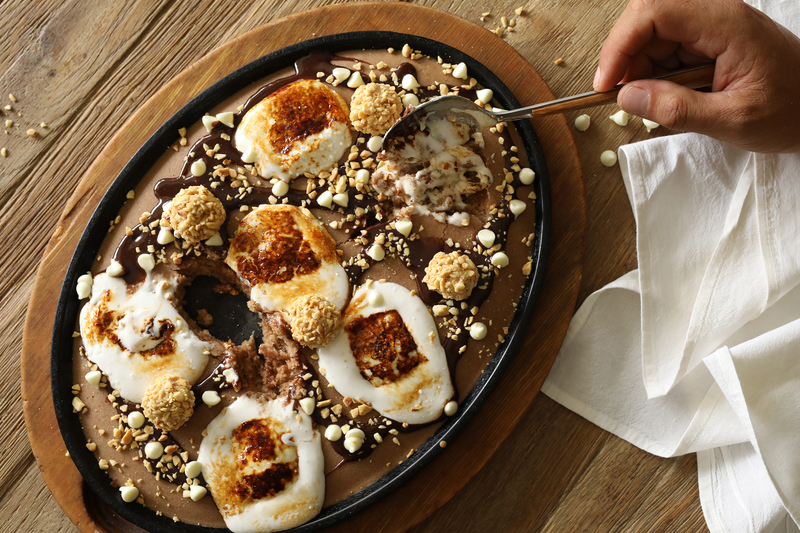 For those with a sweet tooth
Seven-Layer Chocolate Cake – Nutella buttercream, almond flour chocolate cake, raspberry sauce and whipped cream (gluten sensitive)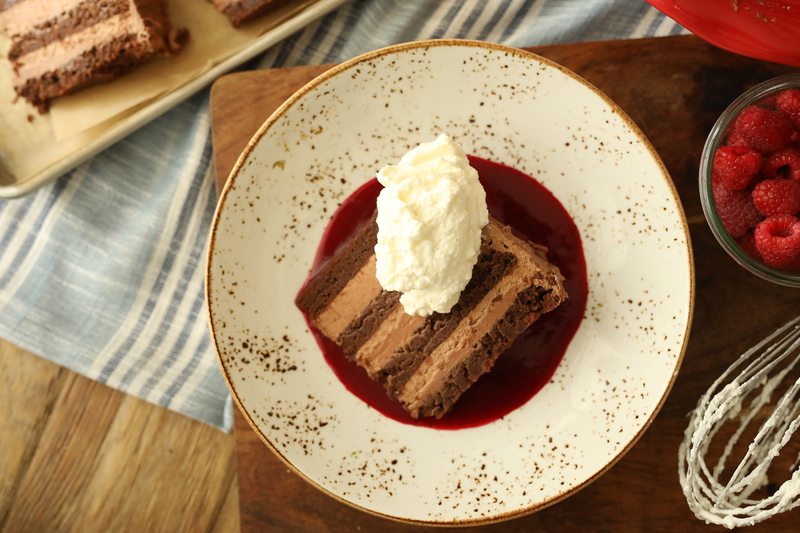 Apple-Huckleberry Open Face Pie – Lazy Dog's twist on a classic apple pie. Featuring wild huckleberries, apples, cinnamon + sugar, salted caramel sauce, served warm with a scoop of vanilla bean ice cream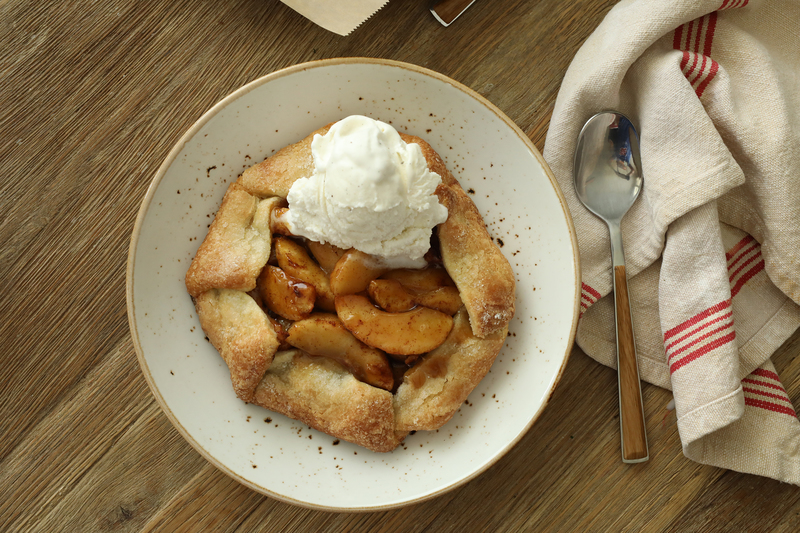 Pumpkin Pie Cheesecake – graham cracker crust, housemade caramel, chocolate sauce, crushed pumpkin seed brittle, whipped cream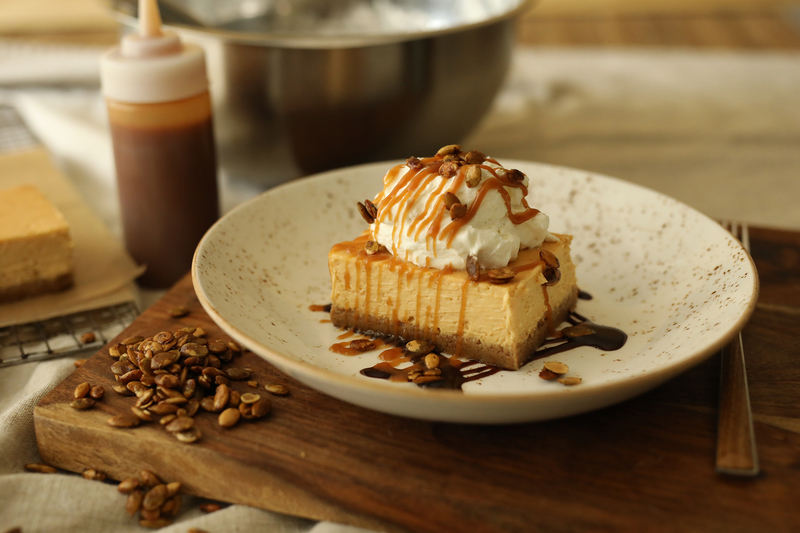 For those looking to wet their whistle
Meyer Lemon Margarita – Lunazul tequila, yuzu lime, sweet and sour, triple sec and cilantro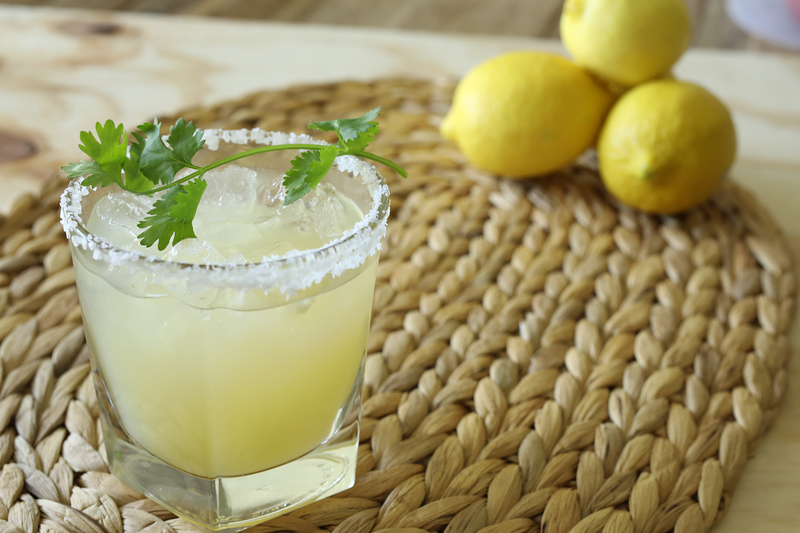 Pomegranate Punch – made with Buffalo Trace whiskey, St. Germain, pomegranate cranberry juice, sweet and sour, mint, soda and rosemary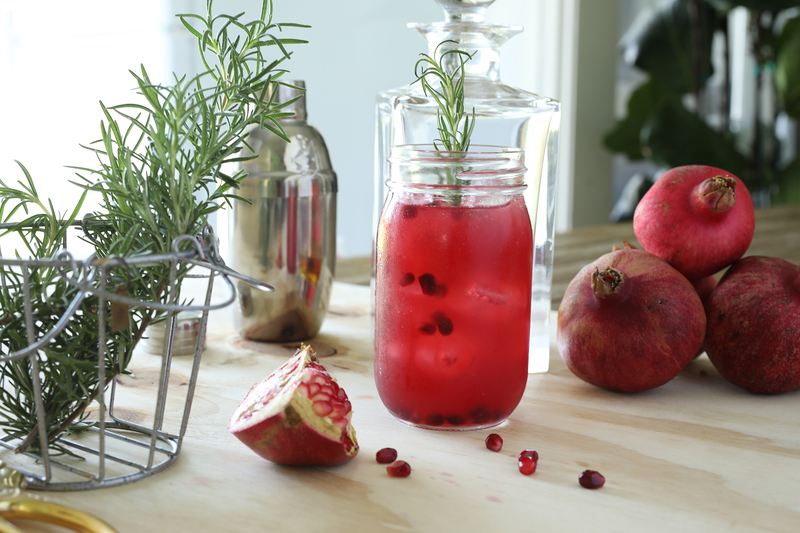 Maple Bacon Old Fashioned – housemade bacon-washed Tincup Mountain Whiskey, maple syrup, bitters, Montenegro Amaro liqueur, and topped with bacon candy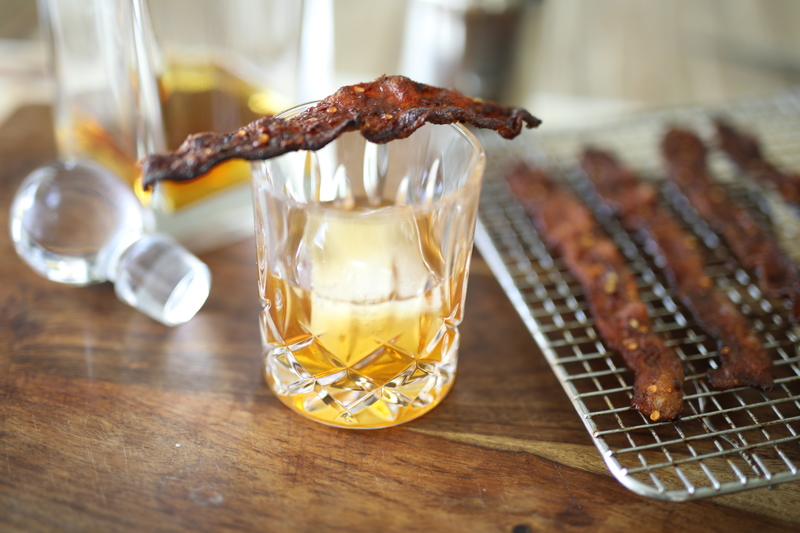 Our seasonal menu is now available at all Lazy Dog locations. To find the location nearest you.
Words by Colin Liotta
Photos by Rebecca Simms
Questions? Comments? Email: [email protected]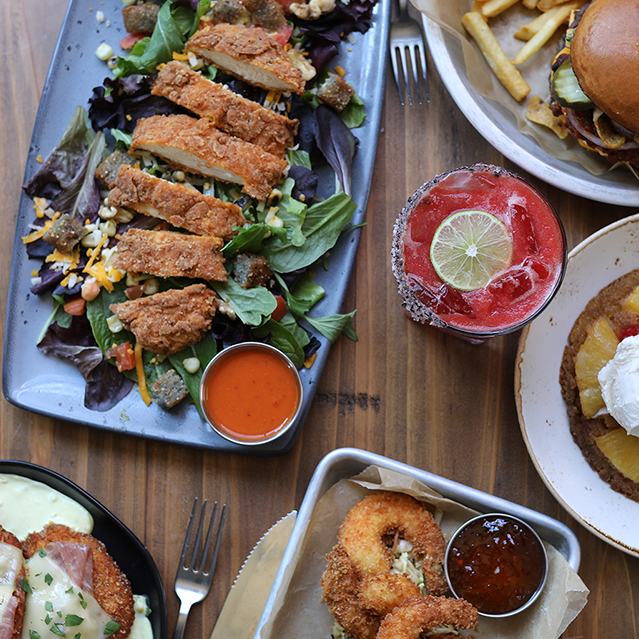 Our New Spring Menu is Here
February 21st