Recipe: Pineapple-Coconut Infusion
Infusion is one of those words — like chiffonade or emulsion — that seems designed to intimidate the average home entertainer like myself. What is an infusion? How long is this going to take? Is this over my head? It's at this point in my domestic mixology venture that I usually open the icebox, pour some vodka in a glass and consider leaving the cocktails to the pros.
But fear not, my fellow cocktail enthusiasts, I got you. I'm going to make infusion your favorite new word. Below is an awesome recipe for a Pineapple-Turmeric Infusion that will bring a tear to your nondominant eye. But before we dive into our cocktail, let me share a little background on the word INFUSION.
The word itself refers to "a drink, remedy or extract prepared by soaking the leaves of a plant or herb in liquid." Archeologists believe the concept of infusion dates back 9,000 years (and they have the funky, fermented residue-filled jars to prove it!). Over the years, humanity has honed the technique of taking a base spirit and infusing it with flavor — similar to how we as a species seem to be getting better at making "Spider-Man" movies. Vodka was the first alcohol to be regularly infused, followed by whiskey, gin, tequila — and eventually, your grandparents' schnapps, liqueurs and cordials.
Honestly, there are two possibilities you can embrace while attempting an infusion: 1) I'm gonna mess this up and make something so foul-tasting my friends will wince in pain after every sip, or 2) Gimme a lab coat, it's time to go full Doc Brown and invent something special.

Together, we're going to embrace the latter. So grab a large glass jar and some fruit, clear out the kitchen, and let's get crazy.

Pineapple-Turmeric Infused Vodka:
YOU WILL NEED
1 750 ml bottle of vodka
1 large pineapple (cut into 1 inch cubes)
1 tsp ground turmeric
4 cups coconut water
3/4 cups pineapple juice
3/4 cups orange juice
1/4 cup sweet & sour
1/4 cup simple syrup
2 cups ginger beer
2 cups Malibu rum
METHOD:
Place vodka, pineapple + turmeric into a blender. Puree for 1 minute, or until pineapple is completely pureed and smooth.
Transfer mixture into a 6 quart (or larger) container and add all other ingredients. Stir well to combine.
Refrigerate for a minimum of 4 hours. This will infuse all the ingredients together!

Pineapple Coconut Cocktail
YOU WILL NEED
3.5 oz. pineapple-infused vodka
0.5 oz. aquafaba (Believe it or not, this is the thick, viscous water you get when you cook chickpeas. Or you could use egg whites, as sold in a supermarket's refrigerated section)
1 dash bitters
In a large shaker, combine pineapple-infused vodka and aquafaba. Add ice and shake hard at least 10 times — this will activate the aquafaba. Strain ingredients into a glass, garnish with a pineapple leaf, and sprinkle a dash of bitters on the foam. Sip gently, and print yourself up a new business card: You are now an experienced infuser! Cheers!
Share your creations by tagging us on IG @lazydogrestaurants using the #ldtable hashtag.
-
Words by Larry Carroll
Photography: Rebecca Simms
Graphics: Archel Arindaeng
Questions? Comments? Email: [email protected]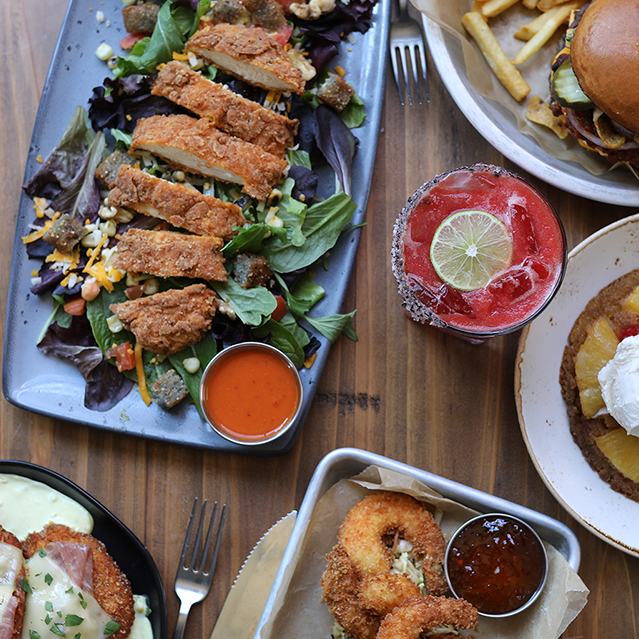 Our New Spring Menu is Here
February 21st