Nestled between the Coastal Mountain Range and Cascade Mountain Range in Oregon sits the Willamette Valley, a place where the rich soils, pure water and mild climate allow for some of the best fruits and vegetables in the world to grow and thrive. And, it's here that you'll find Stahlbush Island Farms, where Karla Chambers and her husband Bill have called home for nearly 35 years.
"Bill and I met at Oregon State University in a statistics class," she tells me. "He wanted to be a farmer. I was reluctant. I knew firsthand all of the hard work that it takes to farm." Karla admits she had her reservations when her husband first proposed the idea of starting a farm. And, rightfully so, as Karla had grown up in this world. Her family has been a part of the Oregon farming community for close to 135 years.
And, just as Karla predicted, things didn't exactly get off to an easy start for her and Bill when they opened Stahlbush Island Farms. "We had two employees, two crops and a whole lot of debt," said Karla, referring to the early years.
Yet thanks to Bill's innovative and entrepreneurial spirit, the pair created one of Oregon's most successful and sustainable farming operations. The couple also proudly raised their four children on the farm, instilling a strong work ethic in each of them and allowing them to truly understand the importance of growing sustainable produce.
Karla's life as a farmer was fulfilling in and of itself, but after spending time with professional artists on a trip to Montana, Karla found a new calling, an artistic one, something she spoke about in her book Farming, Food & Fine Art. When she returned home, she bought art supplies and just kept painting, and the farm became a sort of catalyst for her.
"Most of my paintings are perfected in the early morning hours with a cup of coffee in one hand and a paintbrush in the other," Karla said. "The pre-dawn hours, before the office opens, is my creative time." It was during one of these mornings while looking out her studio window that Karla got inspiration for her piece Mt. Hood & Douglas Fir. "I looked out my studio window and saw that our cover crop had been mowed the night before into a mesmerizing pattern of perfectly sculpted rows of cut hay," she said. "This beautiful green field needed to be captured on canvas."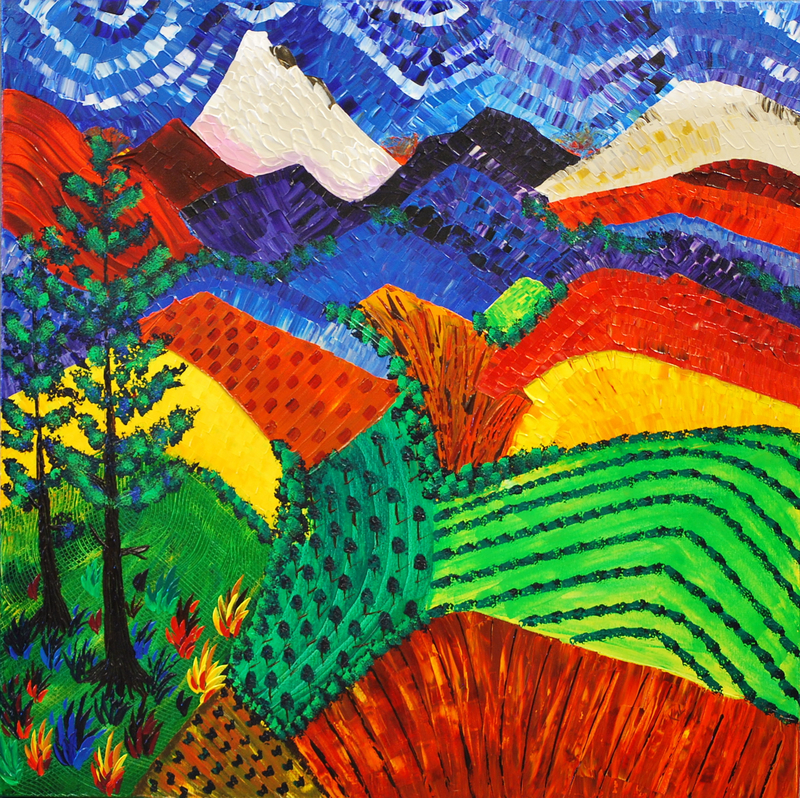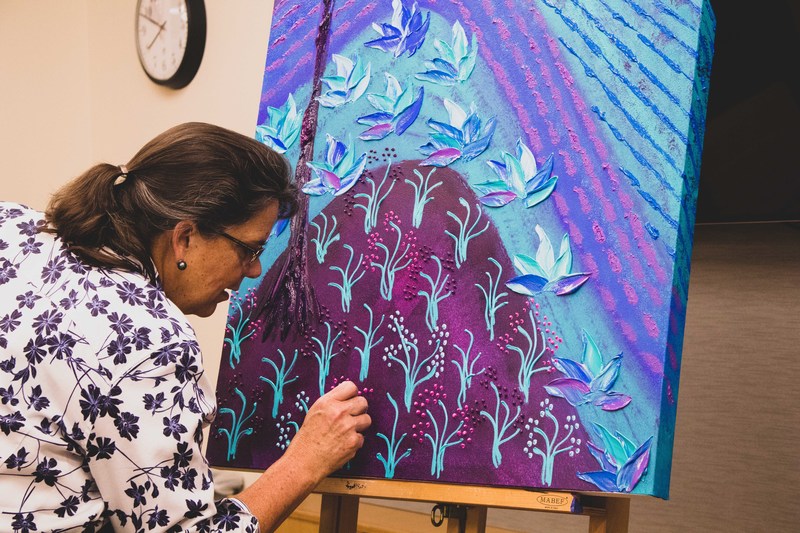 Despite having no formal training, Karla has received wide acclaim for her paintings. Today, they can be found in fine art galleries throughout the country, from New York to San Francisco. She has even been featured five times in Art World News, the largest art publication in the world.
And, as autumn begins to blanket the Willamette Valley, providing cool crisp air for the pumpkins and squash to grow, you'll likely find Karla staring out into the field in the early morning hours, coffee cup in hand, waiting for the next inspirational piece to come calling.
To see more of Karla's artwork, visit her website.
P.S. Be sure to try our new seasonal soup, starring Stahlbush Island Farms' butternut squash, available for a limited time on the fall menu.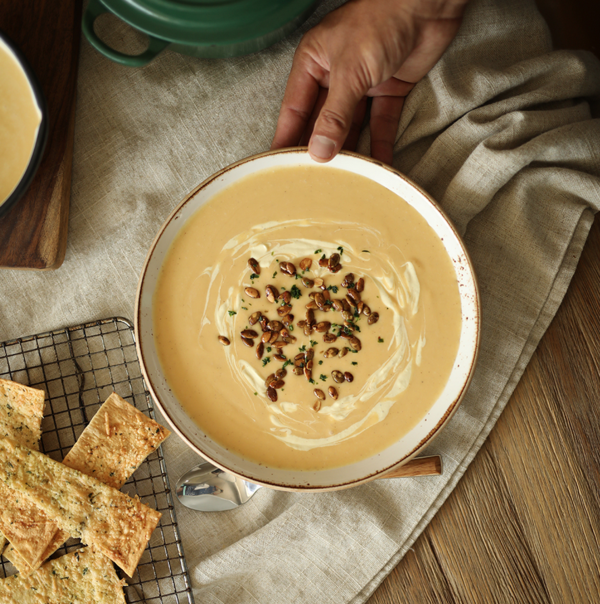 Words by Colin Liotta
Photos and artwork provided by Stahlbush Island Farms and Rebecca Simms
Questions? Comments? Email: [email protected]